Policy Statement
This event is being organised by a local committee of musicians and jazz fans.
Our aim is to promote jazz on the Isle of Wight. Members of the committee will not receive any financial reward. Inspected accounts will be made on request.
The committee will cover the cost of the main venues and headline acts. This will be funded by sponsorship, ticket sales and other fund-raising activities.
Any subsequent profits will go towards funding future events and a donation to charity (IW Mountbatten Hospice).
We will encourage other performances during the period. However, we will not act as agents. It will be the responsibility of the performers and venues to negotiate between themselves.
double click to hide
2014 Dates Announced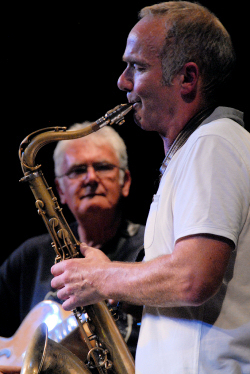 We are please to announce that the Third Newport Jazz Weekend will take place between the 18th and 20th July 2014.

We will be making more announcements soon.

In the meantime please allow us to look back at this years event...

In 2012 the very first Newport Jazz Weekend was judged to be successful but was it just a "flash in the pan"?
With your help, NJW 2013 proved it wasn't. Over the weekend 19th - 21st July 2013 over a thousand tickets were sold.
Newport Jazz Weekend is now established as an annual event on both the Isle of Wight and Jazz calendars.
(see message from event organiser Jim Thorn)
The weekend got great feedback on facebook and twitter. Have a look at the media page to see what the press said about us.
Please have a look at the gallery pages for some splendid photographs. (here's a great one of Gary Plumley and Jim Mullin playing at the Apollo Theatre on the Saturday)
To join our mailing list or to make a comment, please email: