Policy Statement
This event is being organised by a local committee of musicians and jazz fans.
Our aim is to promote jazz on the Isle of Wight. Members of the committee will not receive any financial reward. Inspected accounts will be made on request.
The committee will cover the cost of the main venues and headline acts. This will be funded by sponsorship, ticket sales and other fund-raising activities.
Any subsequent profits will go towards funding future events and a donation to charity (IW Mountbatten Hospice).
We will encourage other performances during the period. However, we will not act as agents. It will be the responsibility of the performers and venues to negotiate between themselves.
double click to hide
A Message from Alan Barnes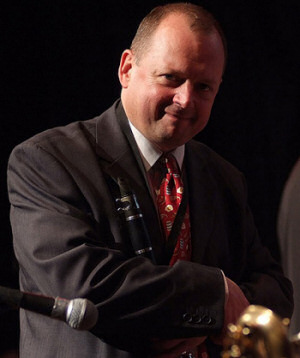 Welcome
to the second
Newport Jazz Weekend
, an event, run by local musicians and jazz fans, that is set to become an important annual celebration of great jazz in a beautiful setting.
I am honoured and delighted to be appearing in my role as the "Resident guest", as I have a long association with many different venues throughout the island, and I'm very much looking forward to playing with old friends Martin Taylor, David Newton and Bruce Adams as well as a wonderful singer, Zoe Francis who is a relatively new face on the scene.
There is a plethora of superb musicians throughout the weekend. What a feast for guitar fans alone- Martin Taylor, Jim Mullen and Nigel Price, all brilliant on the instrument, yet all entirely individual!
The "Best of British Jazz Legends" has an intriguing line up and promises to be a swinging start to the proceedings. Keith Ingham remains one of our finest exports to the U.S.A and other veteran soloists, Digby Fairweather, Roy Williams and Dave Shepherd are all playing as well as ever.
For those of you who only know Paul Sawtell as a swinging pianist, a treat is in store as he presents his "Tribute to George Shearing" on vibraphone, an instrument he has seemingly mastered in only a couple of years. Another superb pianist, Craig Milverton is featured in the group.
Other highlights include the lovely vocal stylings of Georgia Mancio, the hot saxophone, clarinet and flute of Amy Roberts and Derek Nash's exciting group "Sax Appeal" which covers all jazz points from ballads, through Be-Bop, to out and out Funk. I shall be checking out not only all these groups, but also the considerable local musical talent which includes saxophone virtuoso Gary Plumley. I've already been asked to sit in on a couple of sessions so shall look forward to that as well.
Enjoy this wonderful line-up, this beautiful island and the second year of a festival that is here to stay!
Alan Barnes