Policy Statement
This event is being organised by a local committee of musicians and jazz fans.
Our aim is to promote jazz on the Isle of Wight. Members of the committee will not receive any financial reward. Inspected accounts will be made on request.
The committee will cover the cost of the main venues and headline acts. This will be funded by sponsorship, ticket sales and other fund-raising activities.
Any subsequent profits will go towards funding future events and a donation to charity (IW Mountbatten Hospice).
We will encourage other performances during the period. However, we will not act as agents. It will be the responsibility of the performers and venues to negotiate between themselves.
double click to hide
The Unity Stompers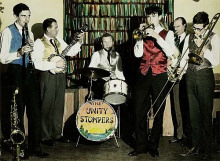 The Unity Stompers Jazz Band have been entertaining audiences on the Isle of Wight since 1960 and are firm favourites with locals and holidaymakers alike. They have backed many of the top names in British jazz including Humphrey Lyttleton, Digby Fairweather, Roy Williams, John Barnes, Terry Lightfoot, Dave Shepherd, Alan Elsdon and the late Rusty Taylor.