Policy Statement
This event is being organised by a local committee of musicians and jazz fans.
Our aim is to promote jazz on the Isle of Wight. Members of the committee will not receive any financial reward. Inspected accounts will be made on request.
The committee will cover the cost of the main venues and headline acts. This will be funded by sponsorship, ticket sales and other fund-raising activities.
Any subsequent profits will go towards funding future events and a donation to charity (IW Mountbatten Hospice).
We will encourage other performances during the period. However, we will not act as agents. It will be the responsibility of the performers and venues to negotiate between themselves.
double click to hide
Digby Fairweather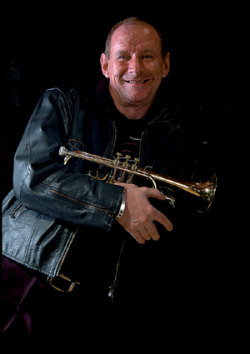 Digby became a fulltime jazzman in l977 after twelve years as a qualified librarian.

After giving up his day-job, he worked amongst others with Dave Shepherd, the Midnite Follies Orchestra, the co-operative quartet 'Velvet' (formerly Stephane Grappelli's Trio) and the Pizza Express All Stars. Later, from l983 he concentrated on a variety of solo projects (including collaborations with veterans Nat Gonella, Britain's first star trumpeter, and double-bassist Tiny Winters) and led his own band the 'Jazz Superkings'; he also founded the charity 'Jazz College' with pianist Stan Barker in l979, the National Jazz Archive in l987 and a number of other jazz-related organizations at this period, including the Association of British Jazz Musicians and Jazz Section of the Musicians' Union.

During the l990s he combined playing with intensfied broadcasting (for Jazz FM, BBC World Service, and BBC Radios 2 and 3 for their five-night-a-week series 'Jazz Parade') but in l998 returned to trumpeting fulltime, going back to the BBC only for 'Specials' (including a live feature on 'Jobim's Bossa Nova', l999, and a new series with George Melly 'It's Trad Dad', 2005).

A prolific award-winner, his honours include 'BBC Jazz Society's Musician of the Year' (l979), BT Jazz Awards (Trumpet l992/Services to jazz l993), Benno Haussman Award for Services to Jazz (l993), and Freedoms of both London (l992) and - his proudest achievement - of his hometown Southend-on-Sea (in their 'Millennium Roll of Honour' 2000).
Digby was our first resident artist in 2012 and is a firm favourite on the Isle of Wight. He features in 2013 amongst a stellar line-up of British jazz legends and it should be a gig to remember.
digby's website