Policy Statement
This event is being organised by a local committee of musicians and jazz fans.
Our aim is to promote jazz on the Isle of Wight. Members of the committee will not receive any financial reward. Inspected accounts will be made available on request.
The committee will cover the cost of the main venues and headline acts. This will be funded by sponsorship, ticket sales and other fund-raising activities.
Any subsequent profits will go towards funding future events.
We will encourage other performances during the period. However, we will not act as agents. It will be the responsibility of the performers and venues to negotiate between themselves.
double click to hide
Edana Minghella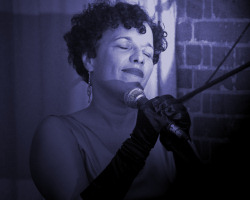 Born into the most wonderful Anglo-Italian family where music, food and wine -- and ice-cream! - were the basic stuff of life, Edana has been singing forever. In the last five years she has established herself as a successful jazz performer, regularly playing to full houses in England and Italy. Festival performances include the Isle of Wight Jazz Festival and Jazz on the Meadow, in support of Courtney Pine.

Edana's debut CD, Still On My Feet, was released in November 2011. Featured musicians include Guy Barker, Guillermo Rozenthuler & James McMillan -- and the magnificent Liane Carroll on backing vocals!

Still On My Feet is dedicated to all Edana's much loved family, and to her brother Anthony especially. Anthony was the multi-talented, Oscar-winning film director who died at the age of 54 in 2008. Two of the tunes on the album were featured on the soundtrack of two of Anthony's films: A Case of You, was in Truly Madly Deeply, and You Don't Know What Love Is featured in The Talented Mr Ripley. Guy Barker worked with Anthony on the Talented Mr Ripley, and it was after having the opportunity to sing with Guy's quintet, that Edana took the plunge into the deep blue sea of the jazz world.....
Edana's website